NEWS FROM ROME

---

January 9, 1999
What's New
The report from the Province of North Brazil on Justice & Peace has been posted to the Justitia et Pax page. It can also be directly accessed here and is available in English, French, Portuguese and Italian: Justitia et Pax in North Brazil (BS).

The letter from Fr. General to the South African Province marking the 75th anniversary of SCJ presence in that country has been posted to the Letters and Documents section. It can be accessed here as well: MESSAGE TO THE AM PROVINCE ON THE OCCASION OF 75TH ANNIVERSARY OF THE SCJ PRESENCE IN SOUTH AFRICA.

In addition to this message, Zolile Mpambani (CU) prepared a report of the celebration held last month in Aliwal North marking this anniversary: 75 YEARS OF SCJ PRESENCE IN SOUTH AFRICA.

A new section has been added to our News page. During the course of the year we will make note the first profession and ordination anniversaries celebrated by scjs throughout the congregation.
What's Happening
Watch for several new sections which will be added to our web site over the coming weeks. These will include:

Who are we? Which will offer a brief explanation to visitors to our site who the scjs are (where they work, what they do, our charism). It will be offered in our five active languages of English, French, Spanish, Portuguese and Italian.
Formation: Recall the letter from Zolile Mpambani calling for the establishment of this page. Since he is now in Paris studying French, this page may not appear until April
Vocations: We hope to establish a vocation page which will at first concentrate on the forthcoming Vocation Conference in Brazil (August 1999)
General Conference: The ad hoc commission preparing the General Conference (May, 2000 at Recife Brazil) would like to engage the congregation in an on-going dialogue as the congregation prepares itself for the conference.

In light of the above additions we plan to change the format slightly. It will involve the use of frames on a much more extensive basis. Therefore we will not be offering both a "frame" and "non-frame" versions of our website. We advise those using either Netscape or Explorer versions 2.0 or lower to upgrade to 3.0 or higher of either Netscape or Explorer. Both versions are free and can be downloaded right over the Internet. For your convenience you can accesses these sights here at:

Microsoft Explorer: http://www.microsoft.com/windows/ie/default.htm

Netscape Navigator: http://home.netscape.com/computing/download/index.html
Congratulations!
To Fr. Aloisio Sebastião Boeing (BM) who celebrates his 65th anniversary of first profession of vows made on January 16, 1934.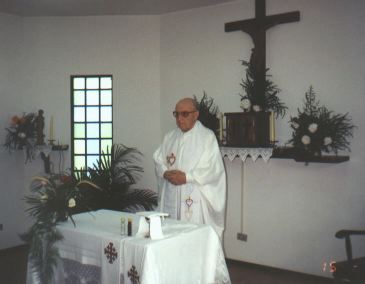 Fr. Aloisio Sebastião Boeing [Capela Nossa Sra. do Rosário, Nereu Ramos, Brazil]